Imagine the Dealer Cloud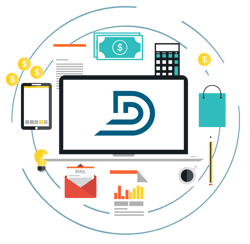 Built on the world's most flexible cloud platform, DealerTeam can quickly adapt our product to fit your dealership's specific requirements. Integrate with our structured business objects and follow a dealer-specific data model. Let our industry experts help plan a custom application to meet the unique needs of your organization.
Your priorities are our priorities
Gain access to a dedicated success manager and build a roadmap. Get the most out of DealerTeam and Salesforce to achieve your business goals.
Tailored Success Plans and Service Engagements help you get the most out of your investment.
If you can Dream IT, we can Build IT.
Business Flows
If your dealership does things like everyone else how do you expect to compete? Automate your complex business processes to streamline and simplify dealership operations. Ensure the right actions are happening at the right time and the entire team is rowing in the same direction.
Dealership in your pocket
Everything that's available in your DealerTeam system is available through the Salesforce1 mobile app. Customize the screens and flows to give the entire team access to the right information at the right time wherever they happen to be.
Apex Triggers
Triggers allow you to perform custom actions before or after updating a record in DealerTeam. Create new records, update related records, send notifications and messages to customers based upon changing circumstances.
Lightning Components and VisualForce Pages
Adjust the solution to present and collect the information most relevant to you. DealerTeam will guide you through developing the ideal interface to make the Goldilocks user experience...just right.
User Adoption
DealerTeam becomes part of your dealership DNA. Help get off to a strong start and boost user adoption with training programs that help teach not only how to use DealerTeam, but how YOUR organization uses it. Detail the specific requirements for each screen and teach your users how workflows help to their advantage.
View Success Plans
Integrations
The Salesforce App Cloud was designed from the ground up for integration. Let DealerTeam help you leverage the free and open API included with our platform. Build two-way integrations to interact with other systems and craft solutions that make for rich user experiences. Ensure data quality and reduce the need to work out of multiple systems.
Learn More
Communities
Modern consumers demand the ability to access personal information and communicate on their terms. Connect in an entirely new way by offering controlled interactions with your CRM/DMS. Communities allow customers to collaborate online, meet with your team, schedule appointments, improve customer satisfaction, and drive dealership loyalty.
Learn More
Call us today at
877-482-0753

or Email us at

info@dealerteam.com

We strive to provide a top notch customer experience, please reach out now.

Start Now